For many of us, vehicle-supported adventure not only includes an excursion based solely on the vehicle but often times, the vehicle being used as a tool to access remote areas for hiking, backpacking, mountain biking, and more. However, what happens if things go astray and you're too far (or out of cell service) to call for help? Basic survival techniques become a necessity and thanks to OutdoorX4's 4×4 Columnist, Bob Wohlers, his latest book entitled Live Long to Wander provides basic survival methods for vehicle-supported adventures.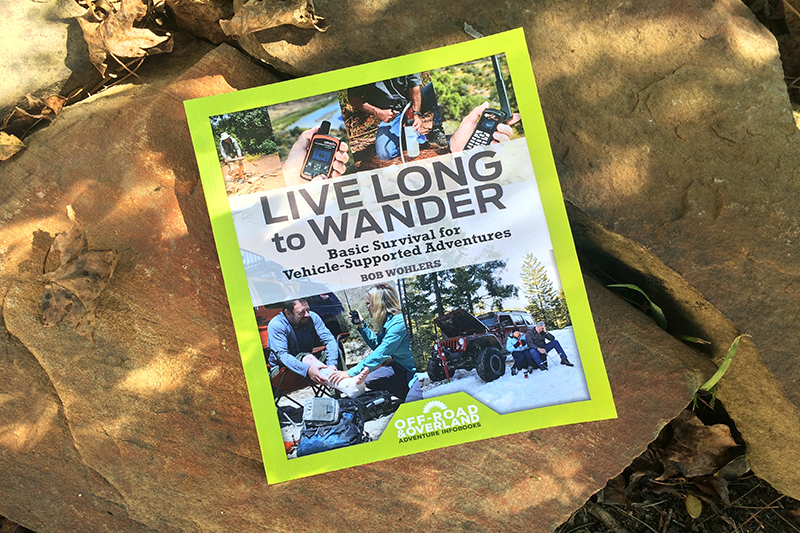 Live Long to Wander is the first in a series of off-road and overland adventure infobooks with a focus on a myriad of subjects related to vehicle-supported adventures, whether by four wheels or two. The book provides an easy-to-follow guide on a variety of survival subjects including items to carry in a survival kit, survival shelter construction, fire building, water filtration and disinfection, and signaling for help along with the use of technology in the backcountry. It's an excellent resource based on over 30 years of experience in the field and an excellent guide for newbies and experienced adventurers alike. As a matter of fact, I'm so impressed with the book that I now carry it with me in my vehicle as a resource whenever I go out into the field.

You can find Live Long to Wander online HERE. Additionally, the newest book in the series will focus on raising your four-wheel drive vehicle and in-field tire repair, and will be available later this spring.
Editor's Note: Bob Wohler's is an accomplished vehicle-based adventurer and is also the proprietor of the Off-Road Safety Academy, a service that provides extensive 4×4 off-road training clinics as well as tours throughout the American southwest. To learn more or to book a clinic or tour, visit his website HERE.
* OutdoorX4 Magazine – Promoting responsible 4×4 adventure travel and outdoor recreation