Kawasaki's Versys-X 300 Adventure Motorcycle
Overlanding on small light bikes is growing in popularity. Kawasaki may not have meant to create the next great mini adventure bike; however, the Versys-X 300 certainly fits the bill. I may have skeptically swung a leg over the bike, but within minutes, you could not get the smile off my face.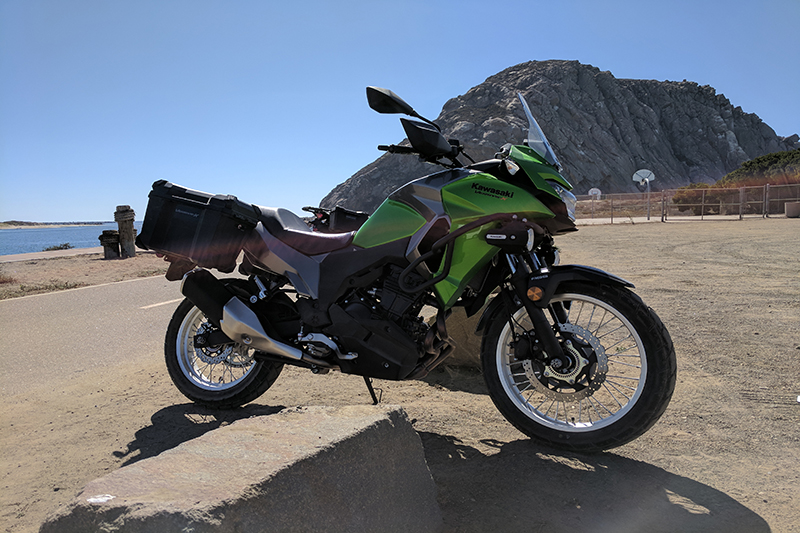 I spent a day exploring the central coast of California on the 2018 Kawasaki Versys-X 300, trying it on pavement and gravel roads. While the temperament of the Versys-X 300 engine feels like the Ninja 300, it has been tuned for greater midrange power, important to an overlander. Playful and revvy, the Versys will zip along at freeway speeds all day, but the twisties are where the Versys 300 shines. The steering is quick and the suspension predictable, planting you firmly into each corner. On a street that I am convinced was engineered by a motorcyclist, the bike begged for more speed and more lean on every banked turn. On poorly maintained pavement, the Versys soaked up bumps without a second thought.

When the pavement ends, the fun multiplies. We rode about 35 miles of dusty gravel, wandering through the hills, following a curvy river. The suspension feels solid on loose surfaces, and the revvy engine is completely non threatening. You have to keep it spinning above 7000 rpms to get the rear wheel to step out, and it comes back into line perfectly. I actually had to work very hard to engage the ABS on or off road, which makes it an excellent safety feature for the pavement and did not inhibit off road performance in any way.
Versys-X 300 Adventure Bike
The ergonomics of the bike were surprising. The handlebars seemed to be at the perfect height for standing and sitting, which is a significant accomplishment. The footpegs were low enough to keep my knees comfortable all day long. The parallel twin engine was smooth on and off road, leaving my hands and feet free of the thumper tingle. The seat is thin enough to make a 32.1" seat height manageable for a 27" inseam.
The spoked tires are on this bike for more than looks, and the 19" front and 17" rear wheels beg for more off road worthy tires to explore deeper into California's off road wonderland. Showa front forks offer 5.1" of travel, while the rear Uni-Trak set up offers 5.7" of rear travel.
For an overlander, farkles are what make the bike trip worthy. The windshield offers plenty of protection and is set far enough forward to not interfere with standing off road. The hand guards may not do a ton to protect the levers, but did an excellent job of keeping my hands warm in the cool morning air. The bags would easily hold a summer tent, sleeping bag, and small gas stove. The bike comes with a rear rack, ready to strap a bag or mount a case. The available auxiliary lighting will make your nighttime brighter.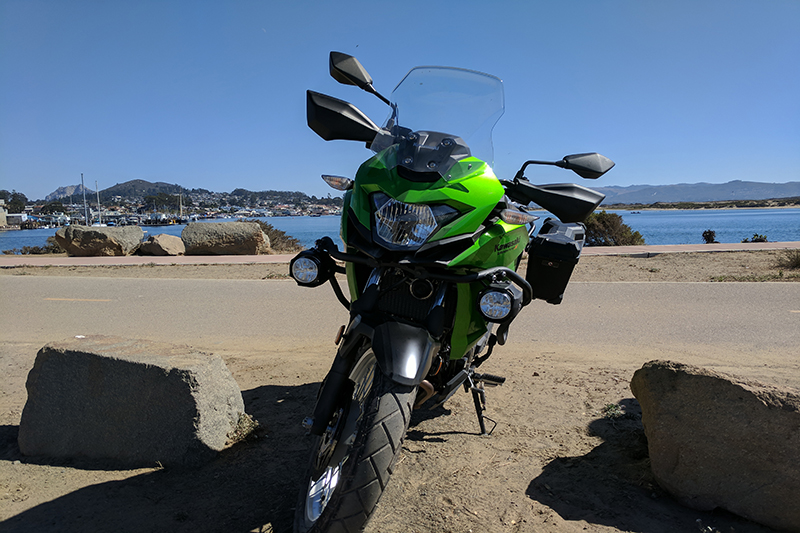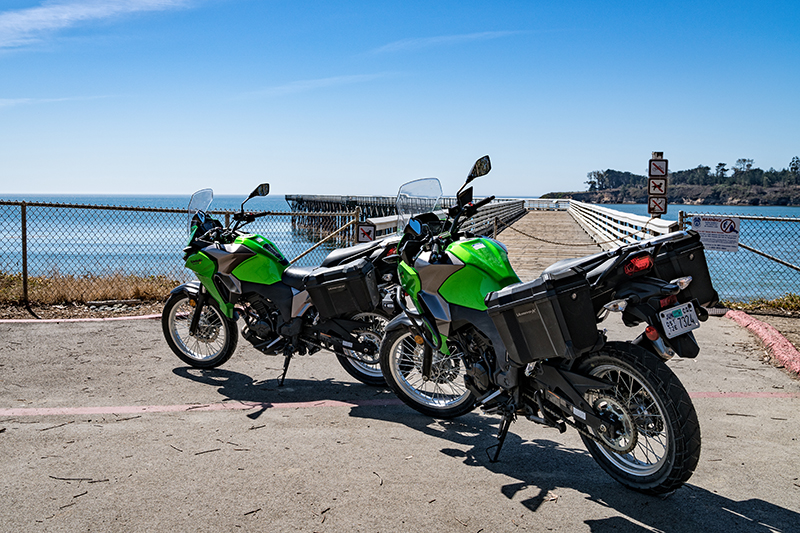 To overland this vehicle to it's fullest potential, a bit more protection would likely be in order. A skid plate and sturdier hand guards are a likely start. I'd add wider, grippier footpegs. I can't review the performance of the Versys-X 300 in gnarly terrain, as this protection is not yet available. The luggage would be perfect for a summer weekend, but it may need a bit more space if you are exploring the TAT, or an entire continent. A seat upgrade would also be a must; I applaud the low seat option, but it had zero cushion for long trips.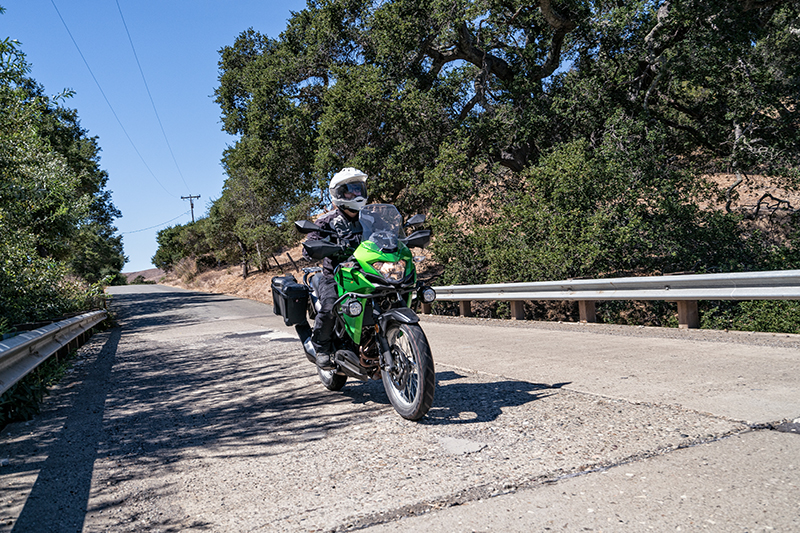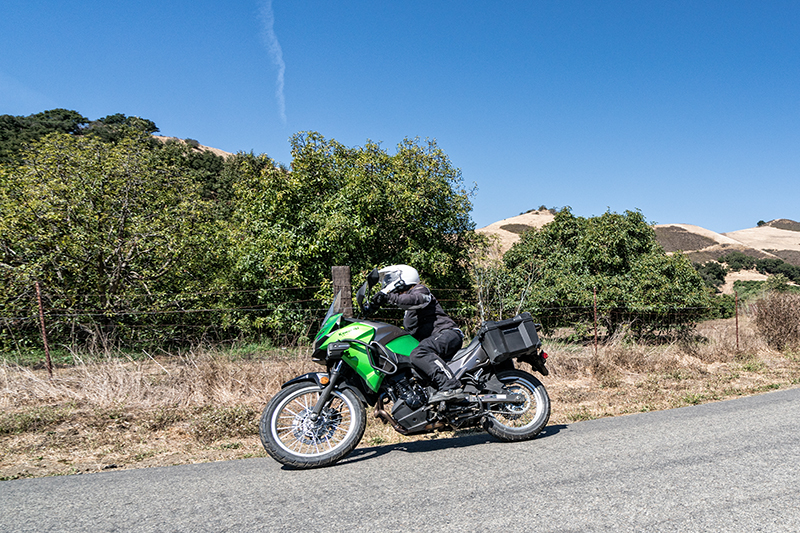 My overall impression is that this is a fun bike for a beginner, someone getting back into motorcycle riding, someone starting out in the adventure riding world, or someone looking for playful power over the larger, heavier ADV machines. This bike is a ton of fun for a low price. If you always wanted to ride your sportbike off road, Kawasaki wants you to take this opportunity to try.

* OutdoorX4 Magazine – Promoting responsible 4×4 adventure travel and outdoor recreation